The Ensign College of Public Health and its partners, Engage Now Africa and Health 2 GO have donated some items to the Department to help in the fight against Covid- 19 pandemic in Ghana.
Dr. Reuben Kofi Esena, a faculty member of Ensign College and a member of the committee on Covid-19 (Team Archimedes) presented the items on behalf of the Team. He said the donation is part of their Corporate Social Responsibility and also efforts to help take education on Covid- 19 to the grassroots.
The items they donated included a branded Barrel mounted on a stand with sinks, sanitizers and automated liquid soap dispenser. Receiving the items on behalf of the Department, Mr. Cephas Narh Dosoo, the Head of Public Relations Directorate thanked the Ensign Team for their kind gesture.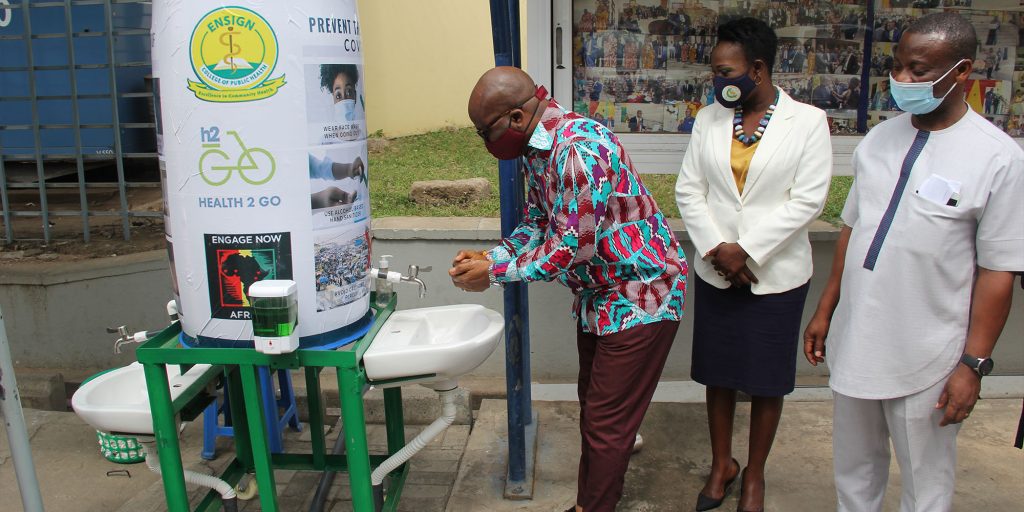 He noted that their donation to the Department will go a long way to augment the department efforts in fighting against the pandemic and prevent the spread of the disease at the workplace.
Mr. Dosoo also noted the gesture will strengthen the relationship between the department and Ensign and its partners.
Present at the presentation were Dr. Edward Kofi Sutherland, Medical Director and Faculty Member, Dr. Stephen Manortey, Head of Academic Programs and Richmond Adu Gyamfi from Engage Now Africa, Head of General Services (CAGD), Mr. Emmanuel Osei Boahen and Staff of the Public Relations Directorate.