Need Help?
Get in touch with us. We will respond to all your queries within 1-2 hours during working days
info@cagd.gov.gh
(233) 302-678-801
Downloads
Annual Payroll Report
3.0 MB
End of Year Report
1.22 MB
Financial Management Services (FMS)
The Division is responsible for facilitating the development and implementation of efficient/sound Financial Management systems for budget implementation, accounting and reporting on Public funds.
The Division has three (3) Directorates namely:
National Accounts Directorate
Research and Development Directorate
Monitoring Directorate.
ORGANOGRAM OF THE FINANCIAL MANAGEMENT SERVICES DIVISION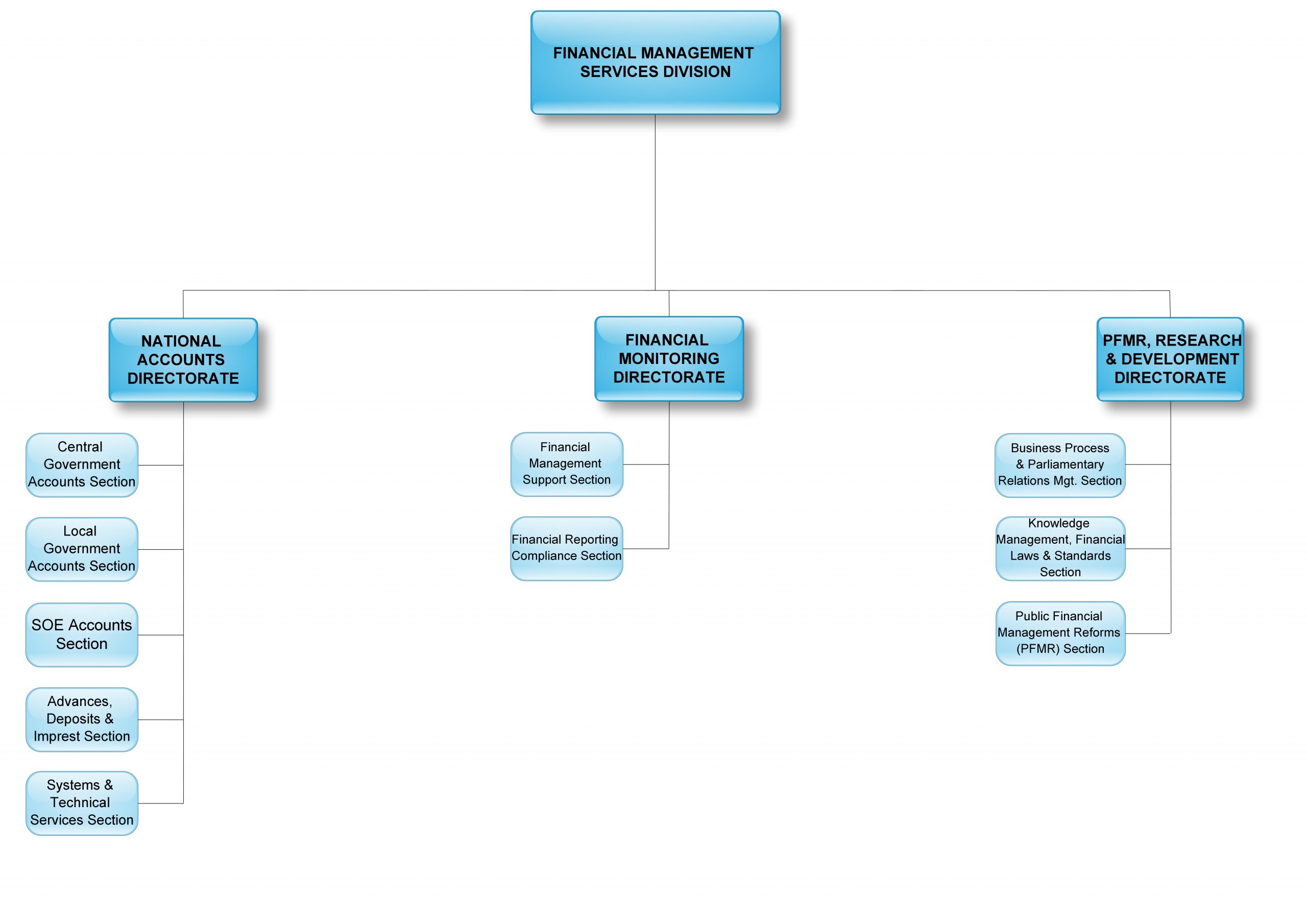 NATIONAL ACCOUNTS DIRECTORATE (NAD)
The National Accounts Directorate is responsible for the following functions:
Production of National Accounts,
Management of Government of Ghana (GoG) Chart of Accounts,
Facilitation of the usage of the Ghana Integrated Financial Management Information System (GIFMIS) by covered entities,
Management of standing imprest for covered entities,
Management of Loans and Advances granted to GoG Staff,
Management of 3rd Party Deposits for Payroll deduction codes.
RESEARCH & DEVELOPMENT DIRECTORATE (R&D)
The R&D Directorate explores best practices and provides suggestions and recommendations for enhancing the performance of the CAGD.
Operations of the Directorate towards the realisation of the CAGD's objectives has been categorised into functional areas as follows:
Laws and Standards (LS)
This area seeks to support CAGD's management in the development, implementation and review of laws, standards, accounting manuals, instructions and other technical documentation to ensure an effective and efficient public sector financial management that is aligned to international best practices. 
Business Processes and Procedures (BPP)
This activity reviews internal systems and procedures to identify possible areas for process re-engineering, for improved performance and best practice.
Parliamentary Relations Management (PRM)
Parliament is responsible for approving Government's budget and also reviewing Government's financial performance.
It is therefore important that the CAGD maintains a good working relationship with Parliament and be abreast of financial issues of interest to the House. This function at the R&D maintains that relationship.
Knowledge Management (KM)
The Knowledge Management functional area seeks to improve the performance of the CAGD by leveraging the present and future value of knowledge assets.  R&D works  towards ensuring that CAGD's authoritative documents (such as, policy documents) are controlled to ensure they are accurate, current, appropriately available, and approved and used by authorised individuals in a manner reflecting the risks associated with improper management of the information.
Other Responsibilities
In addition to these four core functional areas, the Directorate also functions as the current secretariat for CAGD's Audit Committee with the responsibility to coordinate the activities of the Committee.
MONITORING & EVALUATION DIRECTORATE
The core functions of the Monitoring Directorate include the monitoring of:
Revenue performance and reporting at covered entities,
Cash management practices at covered entities,
Compliance to standards and financial policies of Government by covered entities.