Deputy CAG (ICT Management)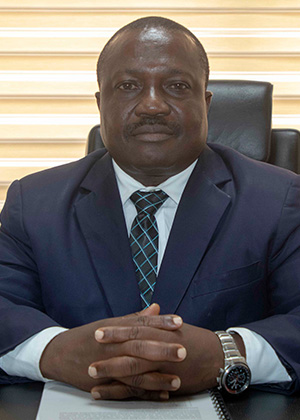 Mr Samuel Ayitey Aryee is the Deputy Controller and Accountant General in charge of Information Communication and Technology Management (ICTM) and Financial Management Services (FMS). He doubles as the Chairman of the IPSAS Planning and Implementation Committee.
He served as the acting Deputy Controller and Accountant General in charge of Treasury before assuming his current position.
Mr Aryee is a Chartered Accountant by Profession and a Member of Institute of Chartered Accountants, Ghana. He is also a Member of the Institute of Internal Auditors, Ghana.
He is a product of Presbyterian Boys' Secondary School (Presec) Legon. He holds Executive Master's Degree in Business Administration (Finance) from the University of Ghana Legon.
Mr Aryee is the Chairman of the Audit Committee of the Pantang Nurses Training College, representing the Internal Audit Agency; Chairman of the Audit Committee for the Ministry of
Planning, representing Institute of Chartered Accountants Ghana, and a Member of the Board of Directors (Historic) of Ebenezer Senior High School. He is also the Director of Internal Audit of the Methodist Church, Ghana.
Mr Aryee has held various positions in many public institutions, including Director of Internal Audit Accra Metropolitan Assembly; Director of Internal Audit Ghana Health Service; Head of Finance, Tema Municipal Assembly; Head of Public Accounts of Controller and Accountant Generals' Department Head Office; Regional Director, Greater Accra Region and Director of Finance at the Accra Metropolitan Assembly.
Mr Aryee has a great a deal of expertise in Financial Management and has trained a large number of officers, who worked directly under him. He is a team player and a motivational speaker.