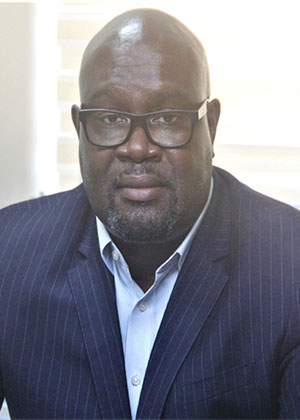 As Deputy Controller Accountant General (ICTM), Mr. Jacob Yeboa is responsible for the management of all the CAGD's Information and Communications Technology resources.
His key functions include:
Advise management on ICT policy,
Develop strategic plans for the technological development of the CAGD,
Establish procedures, standards, and guidelines for the implementation of IT/IM systems of the CAGD,
Document the ICT realities and requirements of the Department,
Ensure the procurement, installation, and maintenance of IT infrastructure,
Address the IT/IM Human Resource Management issues related to the delivery of services within the CAGD,
Monitor and evaluate the implementation of IT/IM systems and
Design and implement ICT disaster recovery plans.
Mr. Yeboa is an experienced Oracle Applications (ERP) Project Manager, Business Process Transformation Consultant, Systems Designer and Functional Consultant having over 20 years of experience in thirteen countries.
During his career  he performed the following project roles:
Project Manager and Senior Advisor
Solution Architect and Technical Designer for Supply Chain and Financial Applications
Business Process Manager for Business Transformation Solutions
Technical and Data Conversion Manager
Financial Applications Track Lead and Consultant
Post Go Live trouble-shooter for Intercompany and A/P Accrual requirements
Instructor for Oracle
His Project experience includes:
Multiple full project life cycles with Oracle Applications Releases 10, 11, 11i, 12 and Cloud
Global solution design & rollouts of core solutions for Financial and Supply Chain clients
Bespoke application extensions, interfacing to third party systems, upgrades, and data conversions
Management reporting definition and solutions
User training and education
Prior to joining CAGD, Mr. Yeboa was a World Bank Consultant to the Ministry of Finance as the GIFMIS Project Manager to implement and manage the Public Financial Management Assessment reform projects.
He is also an award winner of implementing Oracle CX in English West Africa FY 2017, a member of the Financial Conduct Authority (FCA) UK and an Oracle Certified Professional (OCP) in Financial Management. Jacob has an BA in Business Administration from Hammersmith and West London University, UK.