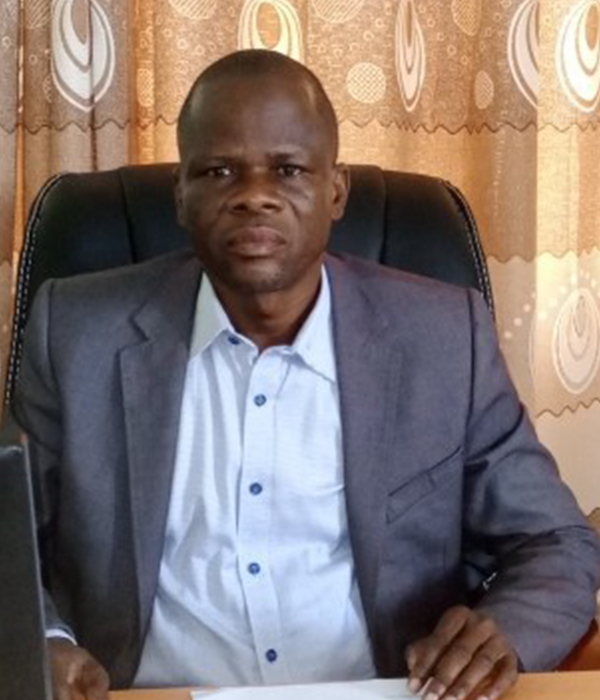 Mr. Richard A. Akolgo
Bono East Region
Mr. Richard A. Akolgo is a Chartered Accountant with 14 years post qualification experience working at various institutions of the public sector. He obtained his professional qualification in May, 2008. He was employed at the Controller and Accountant-General's Department in 2010 as a Principal Accountant and subsequently promoted to the grade of Chief Accountant in 2017.
He is currently the Regional Director, CAGD, Bono East Region, Nalerigu. Mr. Akolgo is a principled man and has good interpersonal relationship with his staff. He has the ability to work under all conditions and with minimum or no supervision. This has enabled him to start and put in operation a functioning Regional Directorate without orientation. He is also analytical, reliable, efficient and effective. He is result-oriented, motivated and has the knack for meeting deadlines. He is a team player, a coach and a facilitator.
Mr. Richard A. Akolgo is a Christian and is married with children.
Educational Background
Mr. Richard A. Akolgo is a member of the Institute of Chartered Accountants, Ghana (ICAG). He also holds a Chartered Diploma is Treasury and Risk Management from ICAG, a Commonwealth Executive Masters in Business Administration (CEMBA) Degree from the Kwame Nkrumah University of Science and Technology, Kumasi and Bachelor of Commerce (BCom) Degree from the University of Cape Coast.
Professional Background
Mr. Richard A. Akolgo has a modest employment history. He started work as a professional teacher with the Ghana Education Service from 1994 to 2003. He in Yelwoko JHS and Tamale Senior High School (TAMASCO). In line with his love for teaching, he was also a part-time tutor with the University of Cape Coast Distance Education where he taught Financial Accounting, Cost Accounting and Quantitative Techniques.
He was later employed at Bolgatanga Polytechnic in 2003 as an Senior Accounting Assistant and he rose through the ranks to become Assistant Accountant. He assisted the finance officer and acted occasionally as the finance officer.
Until his appointment as Regional Director to start the Regional Directorate of CAGD for the newly created North East Region in 2019, Mr. Richard A. Akolgo also worked as Municipal Finance Officer for Kintampo Municipal Assembly from August, 2010 to July,2017and Techiman Municipal from Assembly from August, 2017 to July, 2019
FUNCTIONS OF THE REGIONAL DIRECTORATE
Major Objective
The major objective of the Directorate is to supervise the execution of administrative directives of the Controller and Accountant-General and to provide highly specialized financial and accountancy services to covered entities in the region.
Functions
1. General Administration.
Supervision of financial management activities of covered
Ensures smooth working relations of accounting staff within covered entities
Safeguards the assets of the CAGD in the North East Region
Coordinates work of accounting officers
2. Personnel Administration
Assists to improve human resource capacity of finance staff in the region
Prepares work schedule and deploys (posts) staff to covered entities within the region and monitors their performance
Staff discipline and welfare within the region
Conducts staff appraisal
Monitors payroll costs
3. Operations
Gives advice on financial and treasury matters to covered entities in the region
Ensures proper handling of salary, pension matters of workers in the region as well salary payment vouchers
Manages stock of value books and their
Ensures the implementation of policies and systems developed by CAGD
Ensures that covered entities use the GIFMIS platform to process their financial
Undertakes general monitoring of District Assemblies and other covered
OFFICE LOCATION/GPRS ADDRESS
Located on the premises of the Youth Training Institute Opposite Naagamni Filling Station
Walewale-Bunkpurugu Road
Nalerigu
GPRS Address: NE-0840-6441
OTHER RELEVANT INFORMATION
Brief Profile of North East Region
North East Region is one the six newly created regions in Ghana. North East Region was created by Constitutional Instrument (C.I) 116 on 12th February, 2019 following overwhelming 'YES' votes in a referendum held on 27th December, 2018 for the creation of new regions. It was inaugurated on 7th May, 2019.
North East Region has six (6) administrative districts as listed below:
East Mamprusi Municipal Assembly
West Mamprusi Municipal Assembly
Chereponi District Assembly
Mamprurugu-Moagduri District Assembly
Bunkpurugu-Nakpanduri District Assembly
Yunyoo-Nasuan District
The region has land mass of about 10,484.95km sq. and a total population of about 549,540 (GSS, HPS 2017 Projected). The predominant economic activity of the region is farming which involves growing of cash and food crops and rearing of animals.