Deputy Controller and Accountant-General (Treasury)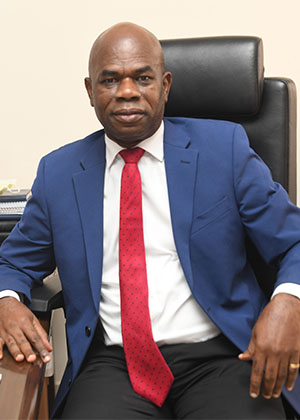 Dr. Hayford Baah-Adade is the Deputy Controller and Accountant-General in charge of Government Treasury at the Controller and Accountant-General's Department.
Dr. Baah-Adade is a senior Public Servant with over 30 years working experience. Before his current position, he was the Deputy Controller and Accountant-General in charge of Information Communication Technology Management (ICTM) and briefly as the Deputy Controller and Accountant-General in charge of Payroll Management.
Dr. Baah – Adade is a Chartered Accountant by Profession from University of Professional Studies (IPS) Legon and also holds a Doctorate degree in Business Administration from Swiss Management University in Switzerland. He has Executive MBA in Project Management from University of Ghana Business School, Legon and MSC Accounting & Development Finance from University of Birmingham, United Kingdom.
He held various positions including: Acting Regional Director (CAGD Regional Treasury, Kumasi; Director of Finance, Komfo Anokye Teaching Hospital; Financial Controller, Ministry of Lands and Natural Resources; Director of Finance Ministry of Food and Agriculture; Project Director, Ghana Integrated Financial Management Information Systems (GIFMIS), and Project Director, Public Financial Management Reform Project (PFMRP), both at the Ministry of Finance.
Dr. Baah-Adade has provided Accounting and Financial Management Services and advice to various Donor funded projects, which were successfully implemented in the public sector of Ghana. Among the Donor funding agencies were DFID, CIDA, GTZ, USAID, BADEA, World Bank, KFW, DANIDA, EU, IFAD and AFDB among others.  His vision is to establish Financial Management Systems and Controls that provide excellent treasury services using appropriate human capacity that act with integrity.
Throughout his working career with CAGD, Dr. Baah Adade has been instrumental in improving Financial Management Systems and building capacity of varied public officers.